Vibro Screen Supplier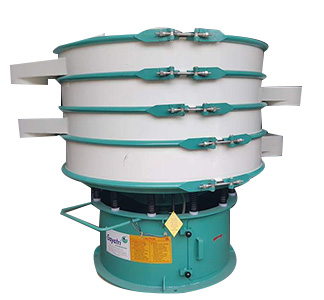 Inquire Now
With years of knowledge and vast experience, we are known as one of the leading
vibro screen supplier,
manufacturer and exporter in India. Our vibro screen offer optimal clarity as it is developed as per latest industrial standards. It is one of the most reliable and durable process equipment for fulfilling various operations like grading, screening, sifting, filtration, fiber recovery, classification, de-watering, scalping, de-dusting and many more. In addition our vibro products are available for timely delivery as per customer requirement.
Our vibro screen machine is able to perform separation of any material using perforated sheet. It can provide effective separation of various solid-liquid, solid-solid and slurry material. These machines are developed using
gyrator motion
which is generated by specially designed vertically mounted shaft where double eccentric weight is mounted. The base from vibrating assembly effectively isolates using screening assembly which consist screen set on angular springs. Three dimensional vibrations is producing with the movement of double weight shaft and material is falling in straight to spiral direction providing effective and controlled screening. The screening material is fed on the top screen centre. Oversized materials can be discharged through outlet whereas undersized materials passed through screen to periphery.
It is possible to move material on the desired path with the help of weight adjusting ability and get effective screening with desired retention time. In the multi deck screening this process is repeated again. Our vibro screens are design to handle multiple screens with on the top of the other. In most cases, you are operating the type of screen decks with either inclined vibrating screen or horizontal screen. Generally the name of screen do not reflect the screen angle but the direction of motion is reflected which is responsible for creating the vibration. Screening elements are curved or flat surface with perforation of certain size as when product passed in bulk it only passes the smaller particles than the size of perforations. Vibro screen is known as
vibro sifter
but sometimes also known as vibrating screen or gyro screen. It is used for effective screening of wet and dry materials. In food and pharma industries where hygiene is must requirement, our mirror polished vibro machine made with high quality stainless steel is available to suit your application. .
Made from unique screening technology, our extra efficient vibro machine is engineered to deliver product efficiency compared to other traditional separating machines. Vibro screens are widely demanded for fulfilling range of applications in various industries such as Food industries, Pharma industries, Paper industries, Oil industries, Plastic industries, Chemical industries, Metal industries, Spices, Agro, Nuts, Soya, PVC, Paint, Dyes, Pesticides, Foundries, Pigments and many more. Moreover we offer our customize
vibro screen machines
as per customer specification and requirement. Contact us to know how our innovative vibratory screens can help in your requirements.