Vibro Sifter Machine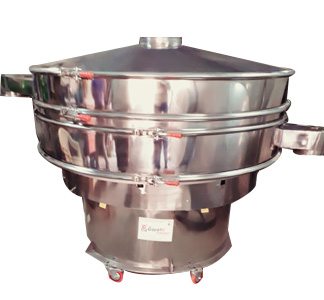 Inquire Now
We are one of the leading
vibro sifter manufacturer,
supplier and exporter in India. Our range of vibro sifters are made to protect the product quality. They are made to remove oversize and undersize impurities from powder and liquid products. These compact ranges of vibro sifter machines are able to fit in any production line as they require minimum space than any other traditional sifters but still provide maximum screening. Our vibro products are available in variety of sizes and options but still we can customize our range of products to fit your production specification especially for screening of powders and slurries with high output per unit.
Our offered range of vibro sifters are helpful for production growth compared to traditional sifters. It is easy to maintain and will reduce production downtime as it can easily stripped down for maintenance and can be clean without much tools. Its enclosed screening body is helpful for the prevention of dust and fumes. Its solid rubber suspension allows to operate at much lower noise level, protects the health of machine operator. It is developed by expert professionals using premium quality raw materials and automated technology as per international market norms. It is designed to fulfill applications in various industries such as Bulk drugs, Food, Grains, Sugar, Pharmaceutical, Construction, Glass, Automobile, Chemical, Plastic and many more. Our vibro machine is highly appreciated by customers for its unique feature and efficient performance.
Vibro Sifter is used in pharma industry for material sifting with different sieve mesh in manufacturing. Pharma companies use vibro sifter for separating two or more ingredients from the mixture of ingredients in order to make pellets. Thus vibro sifter machine is widely used in pharma, food and in beverages industries. A circular gyratory screen of
vibro sifter
is responsible for separation of solid and liquid materials. Materials are separated on the basis of particle grade and size. It consist specially designed vibratory motor which produces vibration on vertical axis to provide material separation. Once the material is feed on the screen, its vibration caused to travel material across the screen as per its particle size. It is considered as very important machinery in monitoring screening, grading screening and protective screening production for dry or flowing material.
Our
vibro sifter machines
are available in various design, size, capabilities and configurations. They are well known for their utilization in industries. Moreover we can provide custom made vibro machines for your specific applications at industry leading prices.